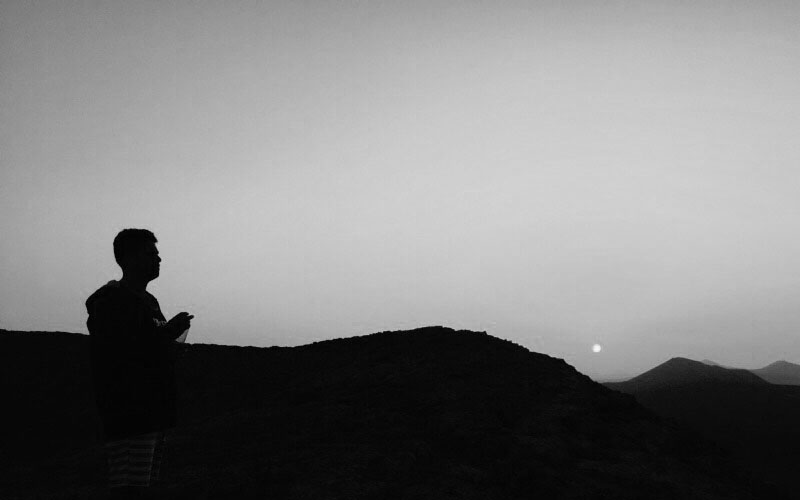 I seem to be starting all my posts with "time is flying". Its an ever returning thought, which recently has taken more and more space in my life. Maybe I´m just a lot busier than normal, maybe its a good thing. I guess its much better than being bored.
Having just returned from Korea, for the first PWA world cup of the year, I can now say that the season is officially open. The months leading up to the first event were rather hectic. And I went through the first part of the year, like always, thinking that there was loads of time to get myself ready. I had all of my new equipment more or less in February, and spent some time between Lanzarote and Tenerife, which was really great for me.

Having some great times in Tenerife

In El Medano, Tenerife
End of February was in the name of love as I went across the world to celebrate the wedding of two great friends, and see more friends at the same time. I stayed on a few weeks longer, and had some amazing days on the water at the same time. When Maui is at its best, not many other locations compete with it.

Wedding with all the boys!


Maui days!
I arrived back home to Lanzarote, and stayed only a few days before I threw all my gear in the car and got on the ferry across to Tenerife to do some training with all of the boys over there. Lots of hours of training and great times on the water. And not to mention, great company. There was a great atmosphere, and everybody were fired up to kick ass on the water. I planned to stay around for about 10 days, but in the end I stayed for almost a month, so it must have been good!
Back home, and I finally got to get back into a good rhythm sleeping in my own bed, and spending some in local waters. But before I knew it, new plans came up. My team buddy Gonzalo Costa Hoevel got injured and couldn't attend a clinic he was meant to go to in the US. So I had to go instead of him.
By this time, we were already in April, and time was slowly running. None the less, I took up the challenge, and got myself on a flight to New York, and drove from there down to North Carolina and on to Hatteras on the Outer Banks. Everything happened last minute, but I met up with a group of mostly Canadian guys, who quickly became great friends. And together, we got to spend a week on and off the water with pure entertainment all of the time. The winds were on our side, and we got a good variety of conditions, and I have to say, that this area is quite awesome!
We also did a long distance race with more than 100 guys entered. And it was a pleasure to meet so many happy faces and people who share the same passion as I do. We did a long course across the inside of the banks, and it was an amazing experience. Windsurfing here is still big, and the passion is just as high as I have seen it other places in the world!

Windy days on the Outer Banks

The boys on a windless day, enjoying an afternoon beer


Long distance race with 100+ guys on the water. It was a great experience!

Crossing the finish line in 1st!


Party and prizegiving. It was a fun evening with all the guys there.


Golden Outer Banks sunsets!

Happy face after some great windsurfing

Back from Hatteras, I now had just a few days of sailing at home before my focus had to be shifted for some time. While all of this was going on, I was also in the process of preparing a new electronic system for the PWA freestyle windsurfing discipline, a project which we have been working on for about a year. It was quite major, and full of small pitfalls here and there. So the weeks leading up to the beginning of May were quite stressful to say the least!
And this is how May got started. I packed up ALL of my gear which I would be using for racing, as I now wouldn't be coming back home before heading out to race. It was on! I tried to really pack light and be specific with what I was packing, but I still had 4 big bags, which I would have to bring with me.. uff..
I flew out to Austria, to lake Neuseedl where the first freestyle event of the year was to take place. Together with the PWA crew, we spend a day testing back and forth, and trying to identify potential mistakes here and there. At the end of the day, I even managed to squeeze in a quick sail, which was pretty great after a long day behind the computer screen!
Next morning we were on, and from then on we switched to the new system, which at first did cause a bit of head ache, but overnight I fixed anything that had come up during the day, and the next day, it was running pretty much flawlessly. This was a big success, and a big weight fell of my shoulders over these days.
I managed to sail one afternoon after that at the "choco lake", and after that, the wind dropped and turned into a mirror.
After a few days with no wind, and some partying, it was time to move on. I got a lift with a good friend down to Lake Garda, which is relatively close by. And I was now ready to fully switch back the focus on the final bits of tuning before heading off to compete. There was just one problem, the wind had switched off, and rain showers had moved in!! All of my grand plans were slowly crumbling.
I managed to get one morning of sailing with Andrea, the Point-7 team boss with rain showers. The wind stayed on for a few hours, so we tested smaller sails, and decided to test out a sail which is in development for next year. It was working great. However, on the other side of the lake, the clew eyelet which holds the sail and boom together exploded, and there I was on the other side of the lake. I managed to make my way back, but it took me a long time, and later that day when I got changed and got into the car, I felt a really strong pain in my shoulder… damn!
Rainy and moody lake Garda
On the day before we were to take off, there was about an hour or two of wind as well, where I managed to try a bigger sail before the wind switched off again. And that was what I got. So when I was packing up at night, I wasn't feeling as prepared as I would have liked to be. I would now have to travel to Korea with a "play by ear" strategy, which sometimes works. I couldn't beat myself up too much about it. I had done what I could to get prepared, and was unlucky with the wind. Such is life sometimes. On the positive side, I had great friends come visit me while I was there, so the spirits were pretty high 🙂
I got on the plane in Milan together with all the Italians, and off we were to Korea. Its a mission of a trip, but as always, the Korean hosts always treat us very good. The only thing that didn't treat us very good this year, was the wind and sea conditions. We had winds from the opposite direction than normal, and it changed the game completely! There was now loads of trash and seaweed drifting into the bay where we were trying to race. The winds indeed did increase enough for us to get out on the water and race, but it was super inconsistent, and we had to cancel racing several times throughout the days. In the end, we only managed to finish one full elimination round, and we were just a few heats from finishing a second one. Many guys were the victim of hitting trash and debris in the water, which on a windsurfer is quite horrible, as we travel very fast across the water. And when you hit something and the board suddenly comes to a halt, you will without a doubt do a spectacular crash! I also caught seaweed in my quarter final heat, and from there there was nothing to do unfortunately, other than to watch the other guys roll me.
This was a pity, as I otherwise felt quite in tune with my equipment, and I feel like the "play by ear" strategy was working. In between heats I managed to test out different mast and fin set-ups which quickly turned out to work quite good. Or perhaps I have just spent that much time on the water now, to be able to feel the differences. None the less, I felt competitive, and my shoulder was not hurting during the heats, only when I had to carry stuff.

All smiles always
Cruising through the light winds on my new gear

Hiding from the rain with Gonzalo
Miserable conditions on the last day of competition!

All the boys together to celebrate our friend Peter Volwaters birthday!
In the second elimination, luck was more on my side, and I managed to make it all the way to the final due to other guys hitting seaweed, and a few premature starts. But the horrible weather on the last day didn't let us get far enough. All in all, I feel that we never really got to race at our full potential, and that this just was a test run, although I now finish on a shared 21st place, which will be counting towards the world ranking, I feel like I have improved over the winter, and I look forward to test it out some more across the season! All of my team buddies did really well, so I´d like to see that as an indication, that our equipment is working great!
For now, I am crazy happy to be at home, and cant wait to get on the water. Next stop is Costa Brava 7-12 of June
Kiani