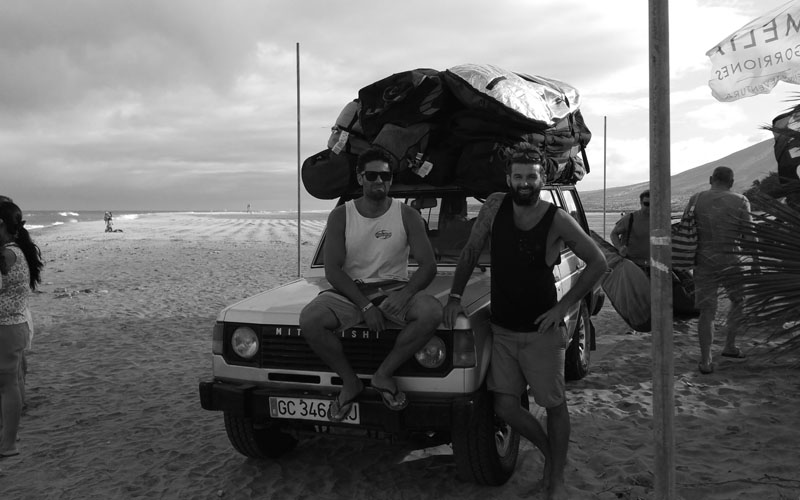 Where to even start. I´ve been off grid from my blog for such a long time. I feel like the daily social media stuff has taken over this year and taken more of my energy than it should, because I actually do enjoy writing and sharing with the world what I´ve been up to on my adventures around the world!
We just passed the month of July, and as expected, it came and went in the blink of an eye, and boy has there been things going on. The month of July is always the one I have been looking the most forward to over the years. I´m not sure why, but I think growing up in Denmark, it has always symbolised summer holidays and the arrival of summer. Nowadays I am spoilt and get to spend pretty much my full time under the sun, but there is always a special meaning in the word July for me!
Those who know me, also know that I´ve been out and about in the months leading up to July. March and April primarily went by getting to know my new equipment, and generally staying local between Lanzarote and Tarifa. It was a great exchange for me to just do short trips back and forth. And although I sometimes would miss the Maui spring time sailing, I was having a great time at both places.

Laying in the hours in Tarifa

Training with Gonzalo in Tarifa
To make a long story short. My season kicked off pretty much normally with the first world cup in Korea, followed by the Costa Brava world cup, and I finished both events at a 25th place. Nothing impressive I´d say, but there was definitely very motivating moments here and there. First of all, one of my main weaknesses, I now feel I have slowly turned into more of a strength: My light wind sailing. This is where I had always struggled over the years, and with the light winds of the racing in Costa Brava, I was able to do some damage, and that for me was a first big step to take up at something where I wasnt sure if I was able to ever get really good. So I guess working really hard actually does pay off 🙂 ..

Equipment at the ready

My 9,7 was feeling quite sweet in Costa Brava

Some nice chilled morning with the boys and some awesome breakfasts 😉
The usual Costa Brava beach party
I will say that before going to Costa Brava, I did do a sneaky trip over to Maui together with my sponsor Maui Ultra Fins to put in some hours of testing work, and to get in lots of photo and film for the season. It was a great time, and I also managed to hook up with my friends Arnon Dagan and Mateus Isaac over there for some training before heading straight to Barcelona and up to Costa Brava!. Now there is a great story with the return trip from Maui which will go down in history as Arnon and me checked in about 20 bags in at Maui airport, and we had strategically booked ourselves on to two different flights to divide the load on to different routes. As luck has it, I come up my gate, and the flight is delayed, and the gate agent had already booked me on to a different itinerary to make sure I would get to my destination,, but guess what route that was?,, yes sure enough I get put on top Arnons flight, and there is already a big delay switching my 11 bags from one plane to another!. I then meet Arnon at San Francisco airport and we have a bit of a laugh about the situation. And by the time we arrived, we had pretty much delayed all of our connection flights. I really hope no internal report gets created in the airline!

Doing product vids in the dark. I have to say it looked amazing 🙂

Still working hard on those turns!

Testing gear with Arnon

We got sent off with a shaka by the friendliest airport staff!
The road continued onwards to Denmark after Costa Brava to do some local events and see friends around the country. It was a really great time despite the fact that I had completely underestimated the Danish summer. It was a late june evening as I arrived at Copenhagen airport in my board shorts and tank top. My friend Christian picked me up, and after we packed the car he asked me if I had brought a warm wetsuit? Well I had brought a long john!!!!. Next morning we were scrambling to find some sort of a wetsuit, and I ended up showing up at a demo event the next day in a yellow rain jacked pulled across my long john and my harness wrapped around. It was a comical sight, but it worked out.
In the following weeks we managed to participate in the Nordic Championships(no wind), and a few more demo events until I was finally heading back to Lanzarote where I would team up with my friend Ross Williams to get ready for the Fuerteventura world cup later in July,,,, and yes, as you see all the sudden it was July!

Cruising the fjords of Denmark
Doing funny faces at the Nordic Championships
I was joined by another friend, and all the sudden, it was a full house, and it was full of good times and sailing. Ross and me put in some quality hours in the waters of Lanzarote, and we managed to get out in a big variety of conditions. It was really great and effective. I learned a lot from these weeks!. Finally a few days before driving across to Fuerteventura, we were joined by Arnon who flew in from Israel. We picked him up from the airport and hit the water straight after.

Having a good time with the boys in Lanzarote

Working it on the water before going racing

Parties in the caves!!
Getting sand blasted

Yeah it was a full load on my car!

Road triippppp!!
When the day came to hit the road, we realised how much baggage we actually had, and we spent a full morning meticulously arranging our bags on the roof of my car, and it will definitely be the record of how much I have done on that car so far. I have done bigger loads before, but this seemed to somehow work out. With the inside of the car fully packed with people and more bags, my 88 Montero had a bit of a task at hand to get us down to the south of Fuerteventura. And it passed the test easily. Now I am never getting rid of this car. It brought us ALL the way down the beach and pretty much into the equipment tent itself. It was time to race!
Arrival Sotavento beach!
I will say, these weeks up to this event, I had been working quite hard on my equipment, and I felt like I could handle pretty much any sort of conditions, and still be comfortable on the race course. Before we started racing I sailed with a few guys and I seemed to have quite good speed. I was pretty much all smiles, but a different reality would set in over the days. There was something off with my game, and it showed it self already on the first day where I mistimed my start and also went in the drink, all of it in the same elimination.
The following rounds on the first day would be the same outcome. This was not a good start. Over the years I have gotten better at staying on top no matter what happens, and this was no exception. I was doing exceptionally bad and was not in sync with the conditions, but I must admit I was having a lot of fun racing in proper windy conditions, and blasting along that first leg in the crystal clear waters with people around you drag racing towards the first mark is an amazing experience.
Yeah its not too bad in Fuerteventura 🙂
Our 2015 Fuerteventura beach HQ
My gear was feeling quite amazing!
At the same time, we were a really great gang, mostly joking and laughing, so there was really not much getting me down. Of course you can allow yourself to be disappointed, learn from it and use it constructively for the future. I never really managed to do any proper comeback although my equipment was feeling absolutely amazing, and I knew I had the speed to be right up there, and this just shows how important it is to have your mental game in place, which I didnt have at this event. I ended up on 32nd place which is massively disappointing, but that moment has already passed and I know exactly what I need to work on, and as I have seen, if you put in the effort, things will pay off 🙂 .. Its funny how the places you expect to be doing well sometimes can become the places where you perform at your worst. I will have to think about that one for a bit haha.
On the positive side my friend Ross was in nearly all the finals and he finished off the event with a 3rd place which I know he is super happy for, and he is now 2nd overall in the yearly ranking. He is a strong force this year and its great to see him perform at his potential, and there is probably more to come.
This event was truly in the honor of our friend Peter Volwater!
Ross gets on the podium!!
Next stop is Turkey!
Since the Fuerteventura event, things have been very quite. I have been home alone and I´ve been staying very quite, and just been gathering energy to tackle the upcoming months, which also will be action packed. In a few days I will be on my way to Turkey, and next weekend we will be starting up the Alacati PWA world cup which always has been my favorite event. I cant wait to get there and get Turkish breakfast, lunch and dinner and get my Turkish going again. I´ve always had a good time there, and I dont expect this time to be any different. I have got a few specific things I would like to work on when I am there, and I hope the wind gods will treat me well to be able to get some good water time before we start the event, and we will see how things will work out at this event. One thing for sure, is that I am as excited as ever! And to top it off,, I am super stoked on my equipment. It has definitely moved me up one level, and when I get my sh.. together, it will show 🙂
Kiani