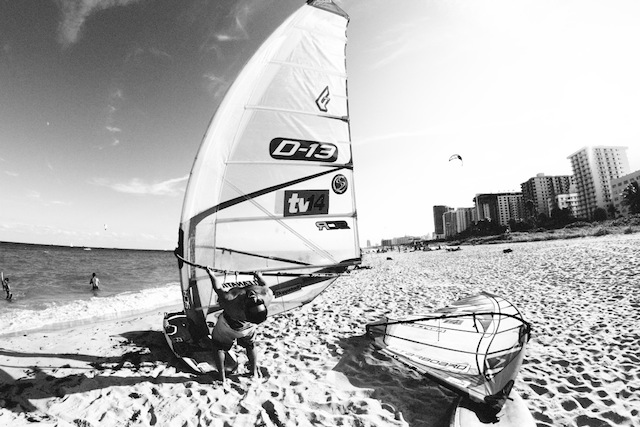 Once more, with the blink of an eye, another month passed by. So many eventful times compressed into what seems to be just a week. But none the less, times passed by fast, and here I am having finished the PWA season and my cold water European month. I always tend to forget how much more hard work the colder climate is. Wearing a thick wetsuit, and always being slightly uncomfortable, but having fun enough to forget all about it.
I took a quick timeout after getting back from the nice and warm Turkey. I crashed in Copenhagen for a couple of days, and then started getting myself together. First of all I needed to get a set of wheels. The next many weeks meant lots of driving as I would be going a bit around Denmark, and then down to the island of Sylt in Germany. All within driving distance. But long ago I got rid of my car in Denmark as it was just sitting there collecting dust and costing me the equivalent of a whole winter time stay in Hawaii. So after some phone calls around town I managed to get hold of my good friend Rune who has a car leasing company, and he was able to help me out with a van, and I was now sorted for the upcoming weeks. Next mission was to organize the mountains of equipment that I had been accumulating over the year.

All set up!
Surprisingly efficient I got everything organized in a flash and ready I was to tackle the next upcoming weeks. I did a couple of local races in the Copenhagen area including the Danish Championships. This year though, the Danish Boardsailing Association decided that you have to attend all races to be able to win the title, which I had not. Therefore there was not much in it than just to do the race and have some fun with it. It ended up just being two races completed. I won the first one, but sadly was disqualified for premature start in the second one. So I packed up my stuff and headed over to Klitmøller to do some work with the PWA for the Cold Hawaii world cup. The week passed by very fast up there, and I was now racing across the country back to Copenhagen again to initiate the last part of the month.

Winning some local races in Denmark
The day after I picked up my buddy Arnon Dagan from the airport in Copenhagen, and we decided to chill for the day there with friends. Our next destination was the island of Sylt for the last PWA slalom world cup of the season. After looking a bit closer at the forecast, we decided to head down there the day after. So we fired up the van and filled it up to a point where you couldn't even fit a jacket inside. Two bridges, a border shop, a car train and couple hundred Euro´s later, we touched down on Sylt, and this was going to be our HQ for the next two weeks. Sadly the weather forecast wasn't as great as we thought, so we didn't really get much sailing time. Before we knew it, we were down on the beach preparing our sails to pretty much any condition as the upcoming forecast could pretty much go anywhere. It was looking like a rough week coming up. I was prepared though. I had pretty much brought doubles or triples of all my wetsuits. There was no way I was going to run out of dry wetsuits. Loads of jackets, hats, boots and gloves. There was no way the cold of Sylt was going to defeat me. However the conditions did.

On the road with Arnon

Getting on well with my new Simmer Charger wetsuit
As we progressed into the week, the wind turned offshore, and pretty much became the worst thing I have ever windsurfed in. The winds were in the lighter range again, and once more, we had the conditions where I had proven to be the weakest throughout the year. Without going further into details, I pretty much was struggling the whole time. I was on my biggest sail and biggest board. I started my first round with a super hard first round heat and didn't advance any further. In the next round I was disqualified for premature start. Then we had a day of break, and I kind of got myself together again. I won the first heat, but kind of lost it again, and didn't really capitalize on the opportunity of coming back, and that pretty much sealed it for me.

The racing commences on Sylt

Digging through the cold waters of Sylt in a turn
There was no coming back, and that was it for the season. The worst season by far since I started doing the PWA tour. If you look a bit at the statistics. We had a full season where I used my 7,8 sail in one heat, and the rest of the heats, for a full season, I only used my biggest sail, a 9,5!. I was undoubtably unprepared for a year like this with only minimum wind conditions. Usually, the stronger winds bring me back on top, but there was none of this for this year. There is nothing to do than to learn from it, and look ahead at improving the game in these conditions, which to me, honestly didn't get me fired up in any sense. Guess I´m just too used to high wind action and adrenaline slalom racing. I have moved on now, and looking at improving this game, and really hoping for some events with some proper wind!
The PWA season was done for me, but I was not quite done competing. Straight after finishing up on Sylt, I packed up the van and drove back to Copenhagen. I parted with the van which had been of great support to me over the last many weeks, and I had the evening to hang out with my mum before it was going to get crazy again. The day after, I got on the airplane and went to Amsterdam where I hooked up with my friend Sean Obrien. Our next destination was Miami!
Before heading off, we spent a day chilling and packing up once more for whichever conditions we were going to be sailing in over there. This has almost become a tradition for Sean and myself, an escape from the cold waters of Europe, to the Caribbean style weathers of south Florida! A road trip and a competition was planned ahead of us.

Miami here we come!

Warm South Beach mornings
Back up in the air, and on a thursday evening we touched down in Miami. However, we were both so exhausted, and Sean was not feeling too well, so we pretty much didn't leave the room for a couple of days. On the third day it was looking like a good breeze was building up, so we decided to check out South Beach, and sure enough there was a nice onshore breeze, perfect for the big boards and sails we had brought with us. We pretty much spent the whole day on the beach sailing and chilling and in general had a really great day.

Getting medicine for Sean so he could endure some days of sailing

Getting in the water at South Beach

Cruising up and down the beach
Next day we packed up this massive truck we had rented and decided to do a little trip up north. Without any specific destination, we just drove up the coast, and about a tank of diesel later, we decided to set up camp at Cocoa Beach, the home of Kelly Slater. The wind didn't really follow us up there though. A warm misty sun was scorching us so hard that we eventually gave up on windsurfing and drove around in the truck with the AC on checking out the countryside. Eventually we made it back down south again, and after visiting a country bar on the way down, we arrived back in Miami just in time for the Miami Slalom Open.

Packed for road trip

No Florida trip without Ron Jon´s
Unfortunately there was not much wind, and even though we tried doing racing, it just never got strong enough for us to race. The next day was pretty much the same show. Sitting round in the baking hot sun and trying to do racing. Still I had a great time with all of the kids at the event telling stories and talking about windsurfing.
The last day, finally the wind played ball, and we did three races which I managed to win, and that was the end of an eventful week for Sean and myself. It was time to finish off this season, pack up our stuff, say goodbye to our truck and head back to Europe.

Gybing the first mark

Just after the start

Finishing the last race of the year with a win!
Once more back up in the air, and we flew back to Amsterdam where we also parted for this winter. Sean headed back to his beloved continent of Australia, and my next destination was Denmark!
Now I´m sitting looking back at a crazy eventful year. Probably the year where I spent the most time and resources preparing. Without too many rewards, its a bit of a disappointment, but I´m really glad that I know have this quite time where I can reflect on things that needs working on and bring together a plan which will move everything in the right direction.
This has now been the second year where I´m more or less fully on the road year round, and even though there has not been too many competitions this year, I have been around a lot, and in general just looking forward to setting up base at the same place for a little while and getting into the right planning mode to be able to look ahead into a new year.
Aloha
Kiani