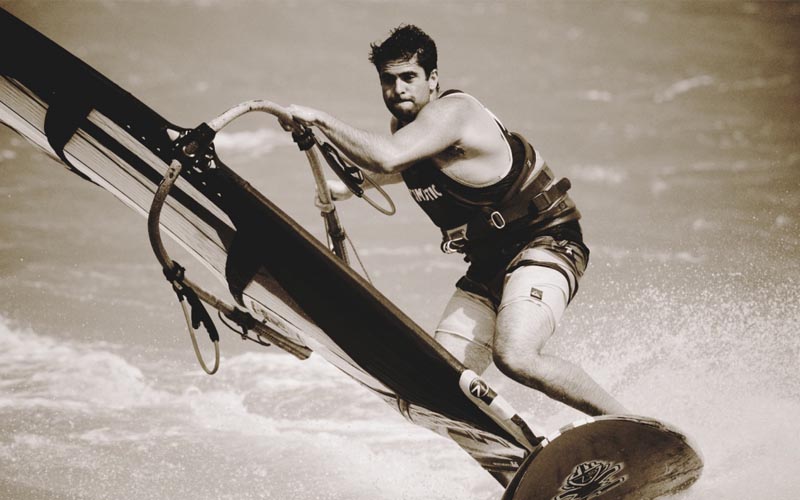 I've always said, the best trips start with rain. And so it did when I flew in over the Pacific island of New Caledonia in the dark of night. While we were settling into our approach into La Tontouta airport, I could only see darkness. I was expecting lights and life. And only then I realised, that I have flown into a place I didn't really know much about. It was an uncomfortable feeling as I always spend a moment looking into the details of whichever place I´m going.
I had a look at the route map on the screen in front of me as we were approaching the island, and it showed a big part of the Pacific ocean. I had flown in from Tokyo, which was eight hours away, and quite surprisingly nearby, I could see Hawaii!!.
Perhaps not that surprising after all, but what if you had just come from there, but only gone the other way around the globe? That is exactly what had happened, and this was also the reason why I now was coming to a new place without knowing too much about it.
Backtrack a few weeks, and I´m getting ready to head over to Maui for helping with this years PWA Aloha Classic, and of course to get some time on the water. My original plan was to stay there a short time, and head back home before going to New Caledonia. But the contest took longer than expected, and I ended up staying in Maui for just about two weeks. I was so caught up with work and preparation over there, that I didn't realise, that I was eating into the days I would have to come back home and travel onwards.
All of my racing boards and sails were home, so there was no chance of staying on Maui and traveling from there.

Office views at the Aloha Classic

Working hard on water in between!
Pretty much the day after we finished on Maui, I was on the plane back to Europe. I touched down at home, and unpacked all of my stuff, and threw myself on the couch with no plans of moving anywhere. I opened up my computer and it came to me, that I would be leaving in only a few days. I carried out as planned and loaded my car to go sailing, and only managed to get a few light wind days at home before I once more had to get packed up, but this time for a proper marathon trip. Four different flights spread across three different airlines. In terms of traveling with windsurfing equipment, this is usually the recipe for disaster. But believe it or not, it all came together quite smoothly, and when I touched down in Tokyo Narita, I thought I was nearly there. I looked up the flight data on my phone and saw that it was actually an eight hour flight!!!

One more flight!!!
And back to the rainy landing in New Caledonia. When flying in for landing, there were no city lights, and I felt like the airport perhaps was a bit remote. That night I was lucky enough to have a taxi driver, who gave me a crash course in the history of the island starting with the original "kanak" people, how James Cook set foot on the island as the first European, and how it since became French territory with nickel mining attributing to its current current population.
Enough of history lessons. I crashed quite hard that night, and woke up to another rainy day in the city centre of Noumea, which is the main city of the island. I had a full day of getting organised. I was staying with friends, and spent the morning getting settled and getting closer with my amazing hosts, who had let me stay at their home, and getting familiar with the area. I rented a little yellow lightning of a Kia Picanto, and I was now ready to take on this place.
When taking a cruise down to the beach where the event would be taking place, to my surprise, my equipment was already there in a container, so I thought why not go windsurfing, just to say I've been in the ocean. Its an important thing to do as soon as you arrive at any place!
The colors on the water were mostly gray, and so was the sky, so my introduction to this place wasn't very grand, but that was to come. The gray skies cleared as I was packing up and the sun came out just before setting and I got to see an amazing sunset. The stage was now set for an awesome week!

My first sunset!

Magnificent views!!
Sure enough, the next day when I rolled down to the beach in my poor excuse of a car, the beach was looking more like a painting with all colors represented. I now felt like the long trip was worth it. The wind was up, and I couldn't wait to get on the water. I had a few days to prepare before the contest would begin, so I made an agreement with myself to no tire myself out too much.
I spent a bit of time sailing back and forth in the bay, and my equipment was feeling quite amazing, and was only enticing me to stay out longer. Before I knew it, I had already been out for two hours. I came in for a quick break, and there I bumped into some of the local guys who asked if I wanted to sail out to one of the islands with them. It seemed a bit far but why no I thought. So I set out for another round, and I sailed out to "Ilot Maitre" which is only about 10 minutes out to sea, and what a great surprise it was. A true paradise for wind or kitesurfing. Protected by outer reef and flat water in all sorts of colors on the inside, only stuff you would see in photos and films from places far away!. Definitely an experience I wont forget anytime soon!
When I got back, some of the other guys who were already there asked if I wanted to join them for some race training, and I thought why not, and I went out for a third session and completely wore myself down out there. I couldn't help it. It was just too much fun, and too great windsurfing. The best I have experienced in a long time!
That night I could barely drive back to the house, and crawled straight to bed thinking about what I had promised myself. I guess today had been an exception.
The next few days were not very much different. I spent way too much time on the water rather than preserving my energy for the competition, but my spirit was so high, and I was so much in tune with the conditions and my equipment, that it didn't really bother me. So a plan B was made: Just stay on top, and so I did.

Ilot Maitre

Cruising islands with Ben Van Der Steen

Face after the first day. Pretty satisfied and stoked!,, and perhaps a bit tired

Local style opening party at the local Chateaux Royal
When it came to the competition, I felt quite relaxed about things. I felt OK with my speed, and the course was fitting my style. Although I sometimes did some rough turns, I was generally getting away with it. I was pushing the start line, and had a few premature starts, but I was fine with that. I knew that I needed to push!
The first few days went by quite good, and I felt like I was gaining more and more momentum to fight my way towards the top. This is where my luck turned though. I had a few near collisions and people taking advantage of our "no rules" format, which set me back quite hard. But hey, it was quite hard getting yourself down at this place. It was so much fun racing at this place, and by far the best racing we've had all year, and I was quite stoked to making my way all the way to this place!

Awesome racing seen from above!

I shared many heats with Pierre and Taty, on the white and blue sails. They went on to be 1st and 2nd place. They did some amazing racing!

Waiting in between the heats. Not a bad stopping ground!

Scoping the scene of the day with Ross.
This although revealed some weaknesses in my racing, and in the way I've been approaching my technique, because I´m sure if I had done things properly, I wouldn't have been a target for people behind me trying to pass me through the turns. Furthermore, my starting game also had weaknesses as the course changed slightly over the week. It was quite clear for me to see. If you haven't got your starting game in place, you wont get far, and towards the final days, I was suffering on this account as well.
In the end, we finished nine full elimination rounds in Noumea. I had one collision, where someone crashed in front of me, and I couldn't avoid him. Then I had three near collisions where I ended up crashing myself. All of this put me in 24th place. Not really what I had hoped and targeted for, but a combination of slight bad luck and a few weaknesses here and there can quickly set you back.

Leading a few heats here and there felt good!

Waiting in line for an after-surf massage with Gonzalo.. yeah it was good times!
When I was packing up to leave the island. I had mixed feelings. On one hand, I felt so much in tune with the conditions, was feeling super great about having made it there, and was positively surprised of the great hospitality and friendliness of the people on the island. But on the other hand, I was disappointed in ending my season feeling like I could have done more. Some barriers were definitely in my way, but now a week later I look at it with different eyes, and acknowledge what I need to work on, and most importantly, I know more about myself and what it takes to climb further and stay there.
Finally, a small sense of relief fills your body after what seems like en eternity of a season. So many things have happened over the year, and I've spent so much time on beaches and waters around the world. And what always keeps you going and motivates you, is how much fun it has been. Any event I look back at, I remember the fun times, and great experiences I've had. Performance has been in focus this year, and I feel like I've crossed some big barriers and improved my sailing, especially in lighter winds, which always was my weak point. There will be enough time now these next weeks to have a more detailed look at the season as a whole, but for now I´m giving body and mind a rest with low profile activity and a bit of planning for the future season.

Stopping in Tokyo for a round of sushi with Basti Kördel
Ohh, and what a trip back from New Caledonia it was. A few overnight stays here and there, and I think it took me about 4 days to be making it all the way home. Talk about a marathon trip. But it was worth it 🙂

A look back at a fun week.. congrats to these boys for their great performance!!
Kiani