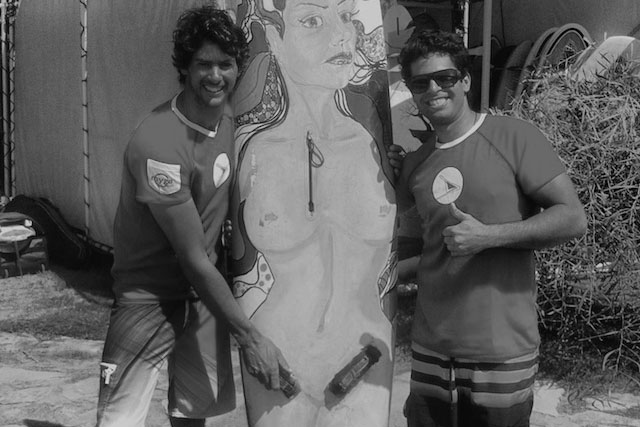 The eventful times go on. So fast and compressed that I have to take a moment to think about what has happened. And what HAS actually happened over the last couple of months? Well last time I let go of my writing, I had just left the coast of Costa Brava and was looking at what to spend my summer on. The traditional world cup on the island of Fuerteventura was cancelled, so now there was what seemed like an eternity between the world cup events at a time where you are usually only traveling and competing.
I took a timeout to think about things, and then I looked to my closest friends to see what they were up to. And before I knew it, I was packing up to go back down to see my good friend in Israel, the windsurfing legend Arnon Dagan. I have been in Israel before, and I knew I would be having a good time and having some good food along with some great windsurfing. I needed this. I needed lots of hours on the water and a set-up that involved a training partner, and at the same time a training partner that I actually enjoyed hanging out with. So none the less it was an easy choice.

Last time I was in Israel!

No big hesitation to jump on the plane this time!
I got on the inter web and tried booking some flights, and after some crashed sites, I ended up with 3 seats on the same flight,, great!!. After hours of crying on the phone, I managed to get it down to just one ticket, and next morning I was flying the friendly skies heading down to Israel. There I was picked up in the craziest heat ever. Its the kind of heat where you sweat even thinking of it,, just instant wet t-shirt. So after lifting heavy bags in this heat, I was pretty much ready to crawl into a freezer and stay there the rest of the time. However we made our way up north to Haifa were I set up base at Arnons beach pad literally a skip from the beach.

All my board bags made it to Tel Aviv.

The view I ended the day with in Haifa
The next weeks after that, I would like to look at as a period of time where I was treated to an amazing amount of hospitality, amazing food and incredible windsurfing. Arnon pretty much introduced me to every single eating place in town each with its own story, which brought my eating experience to new heights. In the day times we would be hitting up the water and tuning up on our boards and sails in front of Arnons place, and then heading next door to hang out in the local BG surfing surf shop talking stories and longboarding. Does it get better? Yes, ice creams in the evening and the occasional visit out in town. As always, things come to an end, and before I knew it, we were outside packing up in the crazy heat. The next destination was Turkey. We had this horrible night flight meaning that it was pretty much impossible to get anyone to drive us, but in the end we managed to persuade our great friend Gil "the fantastic" to drive us to the airport and entertain us en route with stories of the times he was a kong fu master, pretty much a 2 hour laugh.

Training sessions in the warm waters of Bat Galim

Talking boards with Arnon at the beach

More training sessions

Pretty much the mother of all hummus !!

Arnon on his concrete longboard

The views of Haifa from above

On the way back to the beach finishing up some amazing windsurfing in Bat Galim

Finishing yet another great windsurfing session in Bat Galim

The view from the bed at Arnons place

Sunsets to Remember in Bat Galim
I have never traveled together with Arnon before, but we quickly realized that with our combined chat, we are pretty unbeatable, so I probably did the fastest check in with windsurfing equipment of my life, and yes okay with a little help from a Pegasus Airlines sponsorship. It happened so fast we had no idea what to do with the remaining couple hours. We hit up the airport store and tried to find some cool t-shirts for this Turkey voyage, but we had to admit that Nike and Kappa t-shirts werent going to cut it for us. The night hours went by and turned into a sunny day that welcomed us in Izmir. By this time I was an experienced camel, capable of enduring any sort of heat, so I barely broke a sweat when we were shoveling our equipment into this new pimped up sprinter bus which was sent to pick us up. An hour and hundred euro´s later, we were in Alacati, the flat water paradise for windsurfing in Turkey. Here we set up camp for the next couple of weeks. By this time, the new formula windsurfing world and European champion Casper Bouman had also joined us, and the three of us had an amazing set-up for training and tuning.

Having our stuff gone through at the security in Tel Aviv

Okay so we didnt have the longest conversations during these flights

Arrival kofte kebab food in Turkey
We were well taken care of. The guys at the local Myga Surf co. let us store all of our boards and sails at their center, and we more or less just hung out there everyday between sailing and working on our equipment. It was good times. We had lots of fun, and had a great time sailing and training together. Arnon and Casper then had to head over to the formula windsurfing european championship in Latvia, so I decided to stay in Alacati as more friends were going to be arriving within some days. And since the first guys started arriving, it was pretty much full on sailing all of the time. Every morning I would wake up and think to myself I probably should take a break, but I still ended up sailing at least two hours. It was just super great fun and of course great training.

Our friends at Myga sorted us out all the way

Lordly breakfasts at the Zeitin hotel!!

Practicing the turns with Casper

Trying to lay the rail on the big slalom gear

Having a blast with Arnon making videos
About a week passed and it was now time to compete. The competition area was set up, and I had prepared all of my equipment. The forecast was good, the scenery was set, and now all we had to do was to start racing. And indeed we did. Already from the morning next day, it was windy, and after completing the sailors registration and sailors meeting, we were out there. And for what seemed like the first time of this season, I did not have to use my big board and sail. I could go on a smaller set of board and sail, which was the best thing ever, as I am generally doing good in higher winds. We managed to get one round through and I just missed the semi final spot. And so did I in the next round. And after that, the wind pretty much disappeared and we were back to waiting for wind, and racing in really marginal conditions, conditions which seem like my weak point this year, and also more or less the only conditions we sail in.

The Samsung girls are ready to go

Sails on standby ready to go

One last round of training before the world cup kicks off
Things were actually open for me to do well, but it would mean that I would have to fight really hard. I stayed in the top20 the whole week, and even though I feel like I sailed some really good heats, it was unfortunately not enough, and I dropped 11 places down to 29th which was pretty much a disaster result wise.

Cruising the flat waters of Alacati between my heats.
But I know that I sailed some really good heats, and despite having fairly hard heats, I pretty much hit the starts spot on, and going around the turns, I was also doing good, so I had definitely improved my sailing over the weeks up to the event. This was a motivational factor for me, and despite this result, I actually feel like I was sailing well, so it didnt bring me down too much.

Up there in the fights around the corners

Blasting towards the first mark

Going around the corners
As usual, I had the best of times racing in Turkey. I always feel good here. I have been trying to figure it out over the years. I am just always on top when I am at this place, its hard to bring me down. My energy level is just high the whole time, and the smile on my face big. I am sure its a combination of the nice people, the food, the comfortable temperatures and the great sailing conditions that just brings you on top. I would recommend this place to anyone without a doubt.

Closing party fun times

Legendary dinners!
And back to things coming to an end. Eventually the time also came where this adventure was about to come to an end. I spent hours and hours packing up my boards and sails, and then pretty much hit the beer stand for the rest of the evening. Next morning it was time to pack up the mess I had made in the room. 3 weeks of clothes, phones, cameras, money and so on spread out all over the place. I am a very experienced packer, but this one I must admit was a hard one. But this trip was not over. Thanks to my "last minute" nature, I had managed to score myself a flight itinerary including an overnight stay in Istanbul. I got to the airport, had to charm like five different check in girls to not get ripped off for all of my bags, and FINALLY off I was. I spent the whole night in the airport eating at the Turkish Air lounge, and here I am, back in Denmark.

Madness at the check in at Izmir airport. The poor staff must have hated us in the end

Another overnight travel. Im not sure what is going on with flights in Europe at the moment
Wow what an adventure, I am sitting here now looking back at so many things that I came across over these last weeks. It almost feel like I was gone for years on this relatively short leg of my yearly tour. It can only mean one thing, I did the right thing, took the right decisions, and the people that I got to know all have a place in my heart.
The times of summer are slowly changing. Fall is coming, and the stormy northern European times are on the doorstep. I really enjoy these times because I get to be close to Denmark and get to go windsurfing with my friends like I used to back in the days before I started being on the road.

My stop for now,, Copenhagen!
Replenishment, planning and preparation, and I will be off again.
Until then,, aloha
Kiani