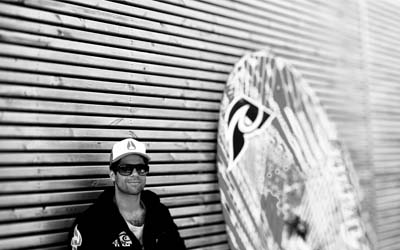 This year I'd like to see myself as starting things over again. Not long ago, the first World Cup of the year started for me, and it was super exciting to get out on the water and test out what I had worked on over the winter against others. So I want to let everybody in on a little "tale" that evolves around this years PWA world tour season opener.
My first competition this year actually started in Denmark, but as there was no wind for this first event, the next one up was going to be the PWA World Cup in Costa Brava, north of Barcelona. This would mean that I would go into my first event with no big competition training. Yes of course over the winter I have sailed a lot and trained hard, but hadn't done any serious competition training. So after being in Denmark for a couple of days, I headed back home to the island of Lanzarote with one goal in mind, train those starts and turns, so that I would be light on my feet when I went into a competition.
And of course the island provided the perfect conditions for this. I managed to get into a good mode and got a good amount of hours on the water! After about a week, my buddy Sean O'brien from Australia joined me, as he was in Amsterdam, so I managed to convince him to come over and I now had a good training buddy as well.
As usual the time flew away and so did we on a direct flight from Lanzarote to Barcelona.
Game time it was, and even with a terrible forecast, I knew that we were going to have some action on the water. The forecast doesn't always know what will happen at this spot.

A life on the road is often a life of patience

Sharing a hut with fun people is important,, always early morning entertainment at our place!
Sure enough on the first day with no particular forecast, we were out there on our biggest gear. Now let me take a few steps back again and get into how I feel about racing at this location, and my goals for this event. If you look at my achievements here over the last years, it has been somewhat of a disaster every single time. First of all, I get super allergic at this place, to whichever plants they would have, and I am sick 24/7. It completely drains me. Then for the last few years since 2011 we have mainly had lighter winds which has been my weakest point.
So I went into this event with one overall goal, to avoid a complete disaster.
I knew that my speed would be fairly good and generally felt good although I was already struggling with the hay fever. Even though I didn't have any big success on the first day, I managed to keep myself within the top 20, which for now was good enough. Then the ultimate challenge came, two full days with no racing. The wind played tricks on us, and I just got lazier and lazier from sitting in the sun and not doing any big exercise.

A bored gang

Sunrise starts of the day

Sunrise and rainbow at the same time
Then on the second last day it all happened again, but with an added twist, an early morning start! Everyone who knows me, also knows that I'm not the best of morning person, and I guess the two days of nothingness had gotten to me. A premature start and an early round exit brought me right down to the end of the twenties, urgh, a wack to my confidence. I then went to bed that night thinking hard about wether I had actually improved myself over the winter or not? Had I just wasted my time? Hmm, no way in hell.

Setting up for pretty conservative starts here at Costa Brava

Setting up for the turns
Another day came by and once again, sick with hay fever, I woke up at 6 AM feeling like someone had beaten me during my sleep. I fired up the coffee machine to the max with no regards to wether it's healthy for me or not and started carrying my gear down to the beach. This was going to be hard one.
The forecast this time was good, and within no time, the wind had filled in, and we were out there. I had only one goal on this day, redeem myself from the day before. I then made a plan and stuck with it, and suddenly it started paying off. I fought my way into two semi finals, but by the time I made it all the way through, I was just too tired to sail properly. The poor nights of sleep and the hay fever had really gotten to me. And for those who would ask, then YES I do take medicine but it doesn't work.

Working hard on the last day of racing

Golden mornings
At the end of the day, I ended this event on a 22nd place, which for me, for now is good enough, why? Because it wasn't a complete disaster. The work I had done over the winter has pushed me in the right direction and raised my bottom and top level of performance. There are still loads of things to work on but I got through the Costa Brava event in one piece. And now, back on the road, I feel like a spell is being lifted off me as I no longer am feeling ill and can breathe again.
For those who were wondering about what equipment I used, it was pretty much all of it except from my smallest sails. The conditions were very tricky and the wind would go up and down several times through the hour.
All I know is that I really like the gear I have now, and it's always a joy sailing on it, easy, fast and comfortable in any conditions!

Light wind days at Costa Brava
Having my life dedicated to only this matter for many weeks, I am going to take a couple days off windsurfing and gather my thoughts on the next world tour event which is going to be in Turkmenistan, a country bordering to my place of birth, Iran, so I will "sort of" have home ground advantage there, so I'd say things are looking good. Wether it's an actual advantage or not, only time will show, but having survived this first event which is usually my hardest, I am looking forward to the next ones with a clear open mind.

Showing off my new boards
Kiani