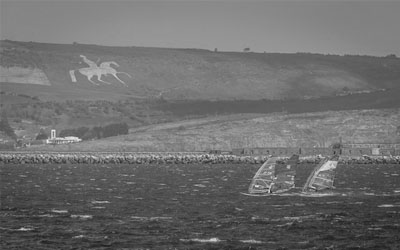 Its game time!. The sand on your feet from the beautiful beaches of Hawaii have now been replaced with airport halls, jetlags, bags, jackets..a life on the move. Although I'm sad to be leaving Maui, I am super excited to get started with some racing, traveling and improving over the previous years accomplishments.

Bye bye beautiful Maui!
As usual, the last couple of weeks on Maui were crazy times. Photo shooting got delayed as there  was no wind for a while which compressed everything into a few very hectic days. In the same time as preparing myself for the season and getting organized for leaving the island, I was definitely feeling the stress. Well as much stress as you can have on Maui!
I only really started packing up on the last day, and as the day progressed I realized what mountain of stuff I had accumulated over the winter, be it equipment or personal stuff. None the less, it all had to come back to Europe. Combined with the Kona wind conditions, which on this day meant that it was about twice as hot as usual, I had a full day of sweating in nervousness over what would happen to me when I turned at the airport with literally everything that I will be using over the year,,,,my home I guess!
Luckily I ran into several familiar faces once i got to the airport which really saved my evening. I got everything checked in and off I was, but not to Denmark as usual. My destination this time was London.

Spread out in Heathrow
I got into London very early just before the weekend, and had a day to relax and try to get over the jet lag. Amazingly my friend Dan Ellis from Maui was in town also, so I went into town and had such a fun afternoon under the spring sun which on this day had us wearing t-shirts.
Great I thought, endless summer, I have timed it perfectly avoiding winter time.
Next morning crazy early I hooked up with my friend Ross, who picked me up on his way back from wave sailing in the north.
By the time we got down to the south, specifically Weymouth, I realized that perhaps I had not escaped the winter after all. After a quick sailing session the water I had to admit, that I had been too optimistic. My fingers and toes were frozen and my body was cold. Such a crazy contrast when coming from Maui!
My luck kept me up and high though, as I was able to borrow some boots from the local OTC centre, and I was now back in business.

The sunset in Weymouth
Next day I entered the second stop of the British Slalom Association tour which was great timing for me to try to do some racing before heading onwards to the first PWA World Cup in Korea. I got up pretty early after spending the night in Ross's van and started preparing my equipment, and by the time we were about to hit the water, I realized how unprepared I actually was when it came to competing. Not on the water but on land with all of the little stuff. I had left my screws for the fin in my board the day before, and had later on turned the board upside down. Next day obviously I had forgotten about it, so suddenly I didn't have any fin screws with no spares. A little wake up call to get those little things together which will bother your mind when you have to race.
Things worked out in the end though, and even though I now bad boots on, I realized that I was still cold! Getting to the start line now didn't seem like a good idea, and by the time we had started the first race, I was frozen!!

Battling with Ross in Weymouth

The beautiful surroundings of Weymouth. This place is amazing for windsurfing
Except from all of the crying about the cold, it was such a fun day of racing, I had forgotten how much fun it is being out there on the water doing competitions. Although I had a little accident on the start line which cost me a massive hole in the deck if my board, it was really a great day, and I had loads of fun with the English gang.
Next day there was not much wind to work with, so I started packing and preparing my equipment for the next quest which will start at London Heathrow and take me to Korea for the first PWA slalom World Cup of the year.
I finished the race in 2nd behind Ross Williams who more or less annihilated me racing wise and made me realize how much in gear I need to get for the next race.
Weymouth is an absolute perfect place for windsurfing on all levels. Perfect for beginners, experienced and expert sailors. And mixed with the great facilities, this is in my opinion the perfect set-up for a sport like windsurfing. I can strongly recommend anyone to come by here if they are looking for windsurfing spots in this area of England.
Check out loads more pictures from the slalom event taken by Dave White HERE and HERE

Top 3 at the Weymouth BSA event. Ross Williams, myself and local boy Kevin Greenslade

Dinner at the cove
Now I'm taking a two day timeout to get some strength back in the body and spend some family time.

Back in the city
Aloha
Kiani