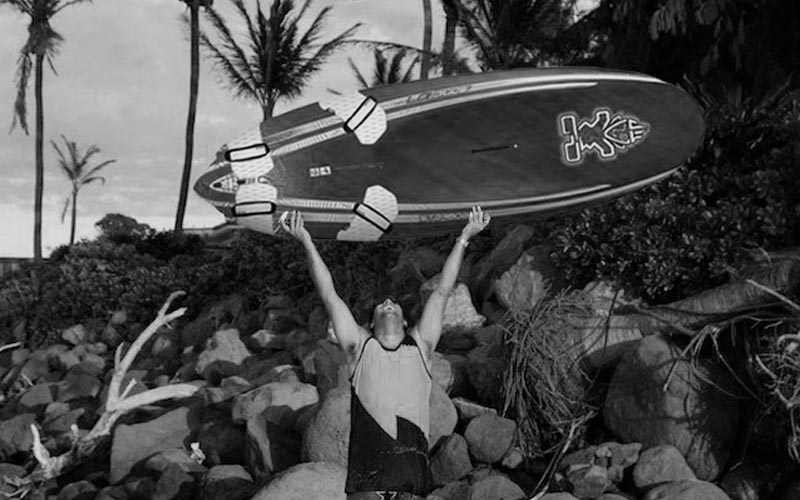 Here it goes, we are now in the new year, and its slowly time to come out of hiding. I must say a bit of still time has done me good. But as we are slowly moving into the new season, its time for me to move on to a new equipment sponsor once more. This time I´ll be leaving my board sponsors Angulo Boards, and re-joining with Starboard. A brand, which I actually was riding in the very beginning when I joined the world tour. Lots of things have happened since then. I know carry a considerably bigger amount of experience which I´ve picked up over the years and the knowledge which comes with it. I know how things work, and after having ridden very different board shapes over the last many years, I know if the direction I am going is good, and I am confident that I am making the right choice.

Back in the days when I first was on Starboard
Now why do I keep changing all of the time one would ask. Well if you compare to many other riders on the world tour, I actually haven't changed that much. Lots of things made me take the decision of leaving Angulo Boards, which is a brand I´ve worked with before, and I have a strong bond with the guys that run that brand. But a time comes when you must put bonds aside and really look at what it is you are doing. Are you really riding gear which is suited for you?
I had a really great year riding my Point-7 sails, because I was able to get them to a setting which was working great for me, and that ultimately brings you that last third of confidence when you hit the water to race against the best in the world. After these years, I can honestly say, its not always about gear being fast or not, but just as much suited to you or not. Last year, I was pretty darn competitive in some conditions, mostly windy conditions. Whereas in lighter winds, perhaps I needed a bit more drive. Having looked at the development program which the Starboards iSonic boards undergo, and having looked at other guys similar size to me which are able to push those boards to the limit in a big variety of conditions, my curiosity was tempted to say the least.

My first real solo trip abroad, racing the South Americans in Brazil on Starboard iSonics
I´m not saying that I´m going to go out there and win everything all of the sudden, but as in many other sports, you look at the parts of which you think you could improve on, and you try to either improve them or replace them. So, this year I am going to try using new boards, and see the effect that it will have on my racing. Along with a long to-do list for my winter preparations, there is a lot of things to attend to, and try to improve on, which all together should come together and give me a boost for this year.

Racing in Fuerteventura 2008 as a youngster
I definitely believe that with the gear combination I´m going to have, I am going to be able to kick some ass across the year, and hopefully be able to perform at a bit more steady level, and ultimately live out my goals!. First of all, I am looking very forward to be spending more time on the water with my new equipment, getting aquatinted with it, and learning every spot and corner of it.
We are now starting up february, but slowly, I´ll be picking up the pace, and its time to put in the serious amounts of water time needed for this years mission. I will be shifting a bit between the Canary Islands, and will be making a few trips here and there to make sure I´ve been through the whole spectrum of conditions to sail in before the season kicks us off in the beginning of May!
See you on the water
Kiani