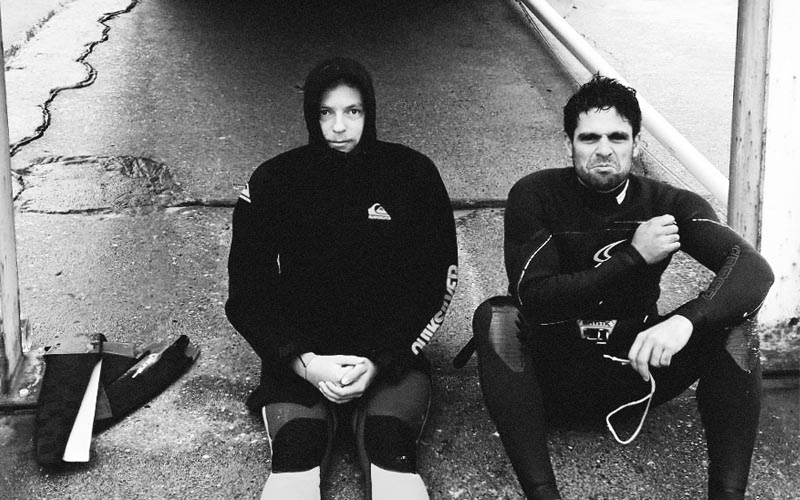 As long back as I can remember, September has always been the month where you slowly see the days going darker, colder and windier! The sea changes it color a bit and reflects at you in a more moody fashion than normal.
Growing up with windsurfing in Denmark, this was always the time where you would start to get the really good days on the water. The westerly winds usually deliver and all over the country people will be on the phone with each other planning trips to here and there. It's simply a tradition!
Although I now spend most of my time in warmer waters, I always return to Denmark around this time. This is the time where we celebrate the wind with some fun events and lots of sailing. The chilly weather doesn't really bother you when you're having fun!
At the the end of August I had been to a world cup in Turkey, and had a brief stop in the canaries before I packed up everything for a month of action, the month of September. First on the schedule was "waterZ" event at the west coast town of Hvide Sande. This event has now been on for a few years and has been good at combining wind and kite surfers of all levels through a long distance race and social activities. This year I rolled over there with friends from Copenhagen and a gang of youngsters all going for their maiden competition experience. We had rented a summer home between all of us and in general it was quite a cosy gang.!
As usual the weather forecast was in place and we even squeezed in a quick windsurfing session the day before the event. This spot is where I spent lots of time when I was just starting to windsurf, so I´ve got great memories from this place which come up every time I come by.

It had been a while since I last had an after surf Tuborg!
In true fall weather fashion, it was raining like crazy while we were rigging up, and by the time I went for a run to try out the conditions, I couldnt even keep my eyes open from the heavy rain… yeah it was heavy!. Luckily by the time we were about to start racing, the rain decreased to only a moderate rain.
There was something odd about the choice of course this year. We would normally do a long downwinder race with just a few turns, but this year the race crew had decided to put up a regular long course with an upwind part built in it, which we were meant to circle around for 30 minutes, and the one who had done the most rounds by that time would be the winner, and furthermore, it would be decided over a series of races. I was definitely not prepared for this, but okay, it was the name of the game.
The first race got called just after 19 minutes, the course got re-adjusted, and we went out for more rounds, but the wind had turned more, and this whole long distance race turned into a long course race, but thats just how it is sometimes. We dont control the wind, we just ride it!

Hvide Sande!

I had a few good starts 🙂
I only just managed to hang on to a third place as I had literally no upwind sailing abilities with the way my equipment is set up. But at the end of the day, it was really great to get on the water and race with all the boys from home, and trash talk each other between the races. And the waterZ organisers did a very good job for the whole event overall. The party was going off, but I couldnt stay for long as more racing was coming up for the following days, which was a part of the Danish Champship tour!
The following day the wind turned to the north west corner and came in at proper hurricane strength. Something I didnt count on, when I was packing my bags. Yes, I had left my smallest equipment at home. So I dared out into the water, and what a horrific experience it was. I could barely sail in a straight line. Who would have thought that after all these years, the wind and sea still surprises you!. I tried to do one of the races, and spent the rest of the day in our holiday hut chilling out and getting warm haha.

Yeah it was windy!
On the next day, the wind was lighter, and we managed to do two rounds of slalom elimination, and I must admit it was some of the most fun slalom racing I´ve done in many years at home!. The level in Denmark is really high, so you pretty much have to go all in at all times, which just makes it a great challenge and keeps you on your toes.
There arent many national level races around the world where you get so many good guys. It really pushes you.
In the end, because I didnt race on the previous day, I was out of the podium game, but it was really a great time. I think we all drove back with a smile on the face that day. Just a proof of how good this place can treat you!

Racing with Sebastian

Third place at this years WaterZ.
That concluded just about a handful of days of full on action. It was now time to shift the focus a bit. I went home for just about a week, and then traveled up to Klitmøller, where the next PWA wave event would take place. This time behind the scenes, working with the PWA on improvements the current event management, scoring apps and future projects. I of course had all my gear with me, and managed to get some hours on the water in the rough North Sea.

A quick pit-stop at home!
Even though I spend lots of time in the ocean, I am always surprised of how different the water is at this place. And none the less, it was great preparation for the next event I would attend on the island of Sylt in Germany. I pretty much managed to get out in every sort of conditions, anything from super light wind, to proper high wind surf slalom. It really helped me get into the "ocean mode", meaning I was comfortable with the high swells and had my equipment feeling comfortable in these conditions.

Klitmøller sunsets
The day after I packed up all my stuff, and got on the road together with my Point-7 team buddy Maciek, and we headed south to the island of Sylt, which is not too many hours away from Klitmøller. The next world cup was five days away, so we thought we´d get a head start and get some sailing in at the spot before the competition would start.
This is normally a place, where you often hit the water for the first time, when you´re actually going out to your heat, so it was great to be able to actually sail there beforehand.
As we were approaching our destination, the weather was gradually getting worse and worse, and by the time we drove off the car train, it was a monumental downpour and generally a depressing sight!.. we quickly escaped inside and waited for better weather, which only would manifest itself later on at the local McDonalds with some free WiFi and cheeseburgers.

Car train views
The next days werent much different of a story. We would roll down to the beach thinking twice about what we were doing, but still managed to get in our wetsuits and put in some hours on the water. We were even able to do some 2016 sail testing, so overall a few good days despite the miserable weather 🙂

The weather was hard on us 🙂

Launching in the rain

High spirits regardless of all 🙂

Our team boss Andrea turned 40, so we hooked him up with some remedies for his next 40 years 🙂

Our lineup for these few days. Gonzalo, Andrea, Maciek and myself. In the end we had some good days!
The forecast for the first weekend of competition was for some wind, and it looked like we would definitely be hitting the water for some racing. Unfortunately, on the first saturday, there wasnt much wind action, and we ended up sitting on the beach, hanging out. The forecast for the following day was only a tiny bit better, so we werent sure how it would turn out. So I hit up one of the parties, and have to admit, I stayed a bit longer than I should have. One of the locals threw me off by saying there wouldnt be any wind the next day haha 🙂
I still managed to get in a good night of sleep, and woke up ready for battle. When I came down to the beach, there was no wind, but it was on the limit, so I spent the morning hanging with the guys from the Point-7 team talking stories.

All prepped and ready to go on Sylt!

Hanging with the guys before racing
Eventually some clouds rolled in, and about one knot of extra wind came in, and we were on. I grabbed the biggest equipment I had with me and headed out just to get a feel for the conditions. Before we could sail my heat, the wind dropped again, and we all headed back to the beach. I even managed to get out of the wetsuit, before it was time to head out again. This is typical Sylt. In and out all of the time 🙂

Coming back after my first heat

Racing together with Maciek
This time there was a bit more wind, and we managed to sail through some heats. I managed to get through my first heat, and came back feeling a bit rough. It was super light wind conditions, and the ocean was all over the place. This is probably the hardest stuff you can sail in.
I took pretty much any energy drink, Gatorade drink and bananas I had laying around and ate them, and headed out to the quarter finals. I had a mediocre start of this heat, but managed to get around the first turn in a good position and I kept it all the way through to the finish, and I had qualified myself for the semi-finals. By this time I was quite satisfied, and I took it quite easy in the semi-final heat. I got a terrible start, but managed to plane out of the first turn and caught up a lot, and eventually managed to squeeze myself in the last qualifying place for the finals,, the fourth place!. This was now really late afternoon, and I have to say I was quite roasted, but it was a satisfying feeling!

Racing with Bruno Martini in my heat

The start line in Sylt seen from above!
In the finals, I had a decent start, but just by the first turn, I totally mistimed my carve of the board, and pretty much sailed into the first mark. I guess I was more toasted than I thought haha. And that was it really. I came in at an 8th place. But none the less, a good day for me, which I would like to repeat again in the future!
We finished pretty much at sunset, and I was only able to drag myself up to the sailors area, get something to drink, some food and wobble home and go to sleep. Although it was only one elimination round, it took the whole day of staying outside, and going in and out of the water. It wears on you!

The finals from above!

The sun eventually came through and gave us some nice sunsets!
And now would start eight days of chilling, stressing, partying, being bored and eating curry wurst!. The little wind we had was just about all which was on the horizon, and only for the second weekend of the event, we had some wind showing, but that also disappeared, and we ended up sitting on the beach for the remainder of the event.
The Sylt event is a Super Gran-Slam, which involves wave performance for men and women, freestyle windsurfing and slalom. I think I only saw a handful of the wave sailors. At least we got out on the water for a bit, so I can only imagine how hard a week it would have been for them!
At the end of the event, I couldnt wait to go home. I packed up and left on the last day of competition already, and the next day I was already at home nursing the cold I had caught during the week.

The end of a very long week!
That also concluded my month of action and adventure in the colder seas, and it will be a while before I´ll be sailing in these conditions. Now the focus is on warmer climates, endless summer and winter adventures. Its time to look far ahead and think of the following season as well. Lots of things to consider, plan and organize.
But before all of the winter time, there is one more event left in New Caledonia. If everything works out well, I´ll be there giving it what I´ve got to climb the world rankings. So fingers crossed for a productive month and some action at the end of November in New Caledonia.
Kiani