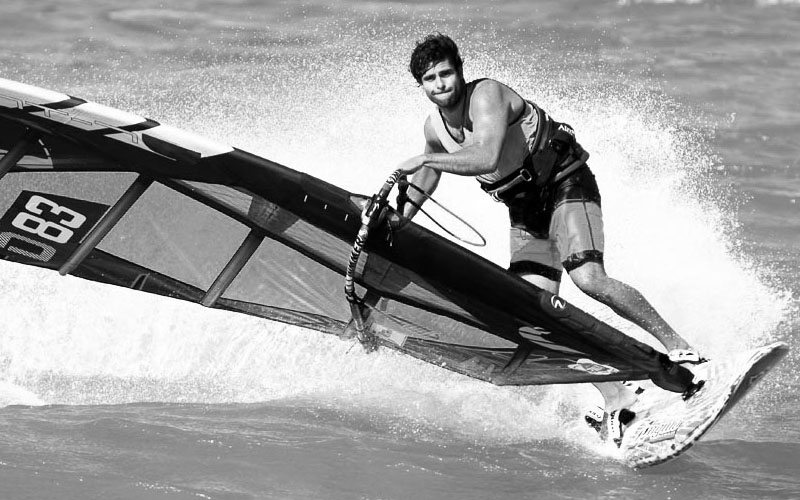 Some decisions are hard to make which I have learned lately. This winter and all of the time up until now, I have more or less dedicated my life to windsurfing and racing 100% with all of the up and downsides which come with that.
Not long ago, a decision was taken for me, by my body, to retire from the rest of this years PWA world tour racing. As some may know, I had a pretty big wipeout when I was in Turkey competing for the Alacati PWA world cup about a month ago. A wipeout like nothing I´ve done before, in relatively light winds, on pretty much my biggest equipment, meaning it really cant have been THAT dramatic, or could it? I dont know, I didnt see it, actually Im not sure what happened.

Arrived in Turkey ready for battle
All I know is that when I came to myself, I had broken my aluminum mast extension and my board was also broken. Ohh and pretty much the whole of my body was hurting. I had somehow slapped my face really hard, I had twisted my right ankle quite hard and my left leg, well at that moment I couldnt even move it. One of the crew boats came over, and they pretty much had to drag me into the boat. I was completely useless! During the boat ride back to shore, I started to be able to move my left leg again but with quite the pain in the knee.
When I got to shore, I felt completely bashed, I was a bit disoriented and was a bit worried about my leg. The guys from the medical team came over, and mostly they were looking at all the cuts in my left leg, but they were not my worry. I felt like something was wrong inside the knee. I had it treated with spray to stop swelling, and other than that I actually started to feel okay again.

Some part of my body broke this

My biggest board broken
Now this was the very first heat of the very first race on the very first day at the competition, and I can just say that my head was definitely not ready to stop! We all know how it is, we dont want to admit that something is not like it should be, and that we should stop.
At this point of time, I think my mind had taken over the pain management and put the pain in a place where I wouldnt feel it very much. And I think I have got an explanation for that. The world cup in Turkey is one of the events I look the most forward to over the year. It is here that I often race the best, and it is here where I feel the most comfortable. Over the weeks up till the event I had built up anticipation and excitement, and in my mind, I was not ready to let it go!
So in no time, as if nothing had happened, I got my sail fixed, got a new board, and in the next elimination round, I was already racing, but I could definitely feel the effects of the crash. I had no power left. Luckily the wind didnt play ball anymore, and the racing was cancelled for the day to be continued the following day.
After packing up and working my way back to the hotel, I really started to feel what was going on. I actually barely made it back to the hotel. For each step I would take, the pain would get worse. Hmm, this could not be good. At night time, I was in crazy pain, and after a sleepless night I realized that something had to be done. First thing in the morning I tracked down the doctor at the event site who had a look at my knee and told me it was nothing serious, pheww, but why am I in this much pain then. He then had mercy on me and at an ambulance parked nearby I got two injections to help for the pain and swelling. I also had it taped up really hard and put together a home made compression which actually helped a lot. The wind was late in its arrival so I was just sat at the beach with my leg up wondering if I should race or not.
And I guess eventually the painkillers kicked in, and brought me out of the momentary miserable state, because I no longer thought about that knee and whatever consequences were to come out of this crash. I retired my big board, as there was no way I would have power enough to really push it and turn it around the corners. So I went with my medium board. People thought I was nuts to race with set-up, but on that day, it felt like all the excessiveness was taken out of my gear and I actually raced quite good making it through to semi finals securing myself a top16 position for that day.

Somehow managing to pull it off around the race course

My spare time activity in Turkey
To me its really funny to see what necessity can bring out of situations. I normally never would have raced my medium sized equipment in the light wind conditions of Alacati. While others were on their biggest board and sail, I was on my 115L board and my 8,6m2 sail. It made me realize how big of a range I had with this gear, something that I wish I could have realized earlier on in the year. I think also it made me realize my efficiency on the board. My time spent preparing over the winter had definitely made a difference. My technique had improved, and I knew every characteristic of  every single bit of my equipment. Something that insecurities maybe have clouded over this season.
Furthermore, I knew there was no way I could fight for an event result by now. There was no way I could fight at the first mark rounding with that knee of mine. Because even though I was on very strong  pain killers, there was still something missing, my edge in the turns, I simply didnt have it anymore.
To shorten the rest of the story in Turkey, I still had a great time and enjoyed sailing there as always, and enjoyed my time there. I kept on racing, and had great moments despite my missing power. It was really only when I sat down in the airplane seat that I once more started feeling like something was not right. The pain was back, and I now knew that I probably needed to rest up.

Heading out for my last heat in Turkey, all taped up

A great Danish crew supported me throughout the week,, thanks guys!
I made it back to Lanzarote and fully rested for quite some time, but I really didnt feel any improvements in the knee. So I went to the doctors once more and had an MRI scanning scheduled. By the time I had the scanning done, it was almost time to leave again and head off for the next world cup in Sylt. So I would have to wait a while getting the results. I have to admit, that I was quite close to not making the trip as I didnt feel ready at all, and I still had pain. But everything was planned, and I had lots of other business to attend to in my time in Denmark and then in Sylt. So I made the trip up north once more and finally made it to Sylt.
I was determined I could do this, and I had everything prepared on the first day of racing which brought really rough conditions with big swell and chop, the kind of conditions I usually welcome. When I first launched heading out to sail my heat, I didnt feel too many problems, and I thought hey, maybe its not so bad after all. But after the green flag went up and I locked in my 8,6 and started going full speed, it wouldnt take much time before I started feeling a burning sensation in my knee, and just generally feeling quite unpleasant. So already at the first mark, I jumped in the water, and had a moment to myself thinking about what I was actually doing. I then decided it was about time to head back to shore and start to be a bit careful. These conditions were not the right thing for me to sail in at that moment of time.
I headed back and threw my gear in a pile, and went inside looking at my friends racing, and not the least my great friend Arnon Dagan winning the final of the day, which was awesome and motivating! At that moment, I had sort of already pulled the plug on racing for the rest of the event, and had come to peace with it in my mind, but I had meetings planned and work to do during the week, so I decided to stay, and perhaps it would be nicely flat one day and I could race again. But that was not going to be the case. We ended up having a full week with no more racing, which I guess was fine by me, there wasnt much I was missing out on. Instead I got to do lots of work, meet up with sponsors and look at what I needed to do onwards. In fact a quite productive and fun week in the end,

My buddy Arnon takes the win at the Sylt World Cup
The day after we finished up on Sylt, I was already back in Lanzarote, and had to wait about a week to go see the doctor, which then eventually gave me the final rundown of what was up with my knee. A maximum level of sprain, but no other damage to any other parts.. Yayy I thought, but then came the but, I was to keep it still, do physio and recovery sessions over a period of 3-4 weeks with NO windsurfing. This would mean no racing for me in the following PWA event in La Torche, and pretty much no preperation time for the last event of the year in New Caledonia. The decision was then more or less taken for me. There is no need to go to events at half speed and not feeling on top or prepared!
This now means that I will not be joining the rest of the PWA fleet for the rest of the year, which of course is a bit hard for me. Windsurfing and racing is a big part of my life, and I have worked with it for years now, so having to take a break from it is not easy. On the other hand, maybe this was the time for me to take a break, regroup and come back stronger. And to come back strong is what I intend to do! In about a month I will be able to windsurf again, and I cannot describe how much I miss it right now. I will be hungry and I will have renewed energy, and I will have had the time to get myself organized for the 2015 season. I have had very supportive sponsors which I am über happy to continue working with them for the future. But for now, I will be focusing on getting my body back to a level where I can compete at 100% again, and I am sure all else will follow it. This is not me signing out of windsurfing, but only racing the next few months.
See you on the water soon
Kiani