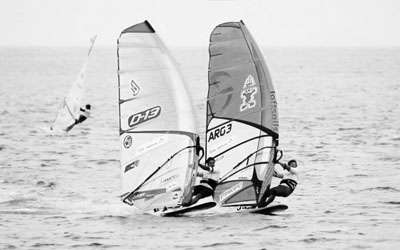 Korea kicks us off from Kurosh Kiani on Vimeo.
It is that time of the year. The seal of the season has been broken, and we are now officially on with the World Cup season. For me, this is already my second event after visiting Weymouth in England for a short while before heading onwards to Korea.

Touchdown Korea!
Korea, a county which always amazes me with its beautiful countryside and a level of organization which just makes everything so efficient. Already when you land at Seoul Incheon airport, you notice this. I think there is a reason this airport has been voted best airport in the world. It's my fifth time in Korea, and for every time, I have liked this country more. The organizers always take good care of us and things happen at an easy pace. Okay I will admit, coming from Europe with all of your windsurfing equipment all the way down to the south end of South Korea is not super easy. Once you land in Seoul, you tend to forget that you are not there yet! From Seoul, you usually jump in a bus to change airports and then fly to the south which is Busan or Ulsan, and you are still not there. Yet another hour or so on the bus, and you can finally crash and try to recover from this marathon trip.

The Korea gear set-up ready to fly!
This year with all the media hype about potential wars going on in this area, you would have thought it would get cheaper to travel to this destination, but the fact is that it was crazy expensive to travel to this area this time which really makes me wonder. None the less, all of that is now behind me, and I am en route back to Europe to start up a new chapter of this year. A chapter which hopefully starts with the words "summer". Last time I was I'm Europe I was really freezing, so I'm hoping that my return into London will be greeted by the feeling of summer. It's my favorite time of year!

The typical skylines of Korea!

The first event of the year gets kicked off
Competition wise, I will have to admit that it was darn many miles to fly to windsurf relatively short time. I guess I could have windsurfer more if I wasn't kicked out relatively early on in the three eliminations we managed to finish during the World Cup week. 27th place overall, a number without much importance but with contents to serve as knowledge for the future events to come. I was pretty darn rusty in the starts and also got myself a disqualification for jumping the starting line. Stuff that shouldn't happen too much, and along with other things, I guess I will be looking back a couple of steps to improve for the future events. Everytime I would get the start, I would also win my heat, so I can feel my best competition mind being just around the corner. And I have gathered some good information on what equipment works good for me in the different kind of conditions on the race course. Its something that is difficult to know before you are actually racing. So there is loads of stuff to work on for the future events. The season is still long!

All stacked up ready to go!

Heading out for my race.

Going round the corners
Lots of people have asked me about equipment choice for the year. Basically for the PWA slalom world cup, you are allowed to register 3 boards and 6 sails for a while year. This year I went with the following Fanatic Falcon sizes: 132, 112, 102. As for sails I went for the following Simmer SCR sail sizes: 5,5 6,2 7,0 7,8 8,6 and 9,5. That should have me covered for the whole season. This year though I went for the second biggest board as I didnt feel like I really needed the bigger board. Also my smallest board is now around 100L which is a very big board for stronger winds, but I feel very confident on it, and I hope that this choice will bring me into a better position for doing well over the whole season.

Racing with my friend Gonzalo in between the heats

Full speed on my biggest board and sail

Hitting up Ulsan town with everybody for a city tour

The Korean PWA staff

Farewell dinner party
After the competition was done, I still had 3 more days to kill, so I packed up my stuff and headed over to the town of Busan along with some of the other guys to check out the city, and in general to see a new place after being on the same beach for a week. Yes, the same place he whole time. Lots of people ask me about the places I have seen when going around to competitions, but I must admit that I often don't see much more than the beach, and then head on home. But I guess that's not too bad either. Busan is the second largest city of South Korea and is truly an international city worth a visit. I have previously been to Seoul which of course is equally as great, just bigger!

Haeundae, Busan

Impressive

Lounging a bit in the airport with the boys getting ready to head back
Now it's really a time for me to chill out for a bit. I've been on the road constantly without more than couple days of rests the last many months, so now I just feel like parking it at the same place and not moving further than across the street to the store for a while. Luckily I have the luxury of visiting my family and resting before laying the final plans for the summer. Unfortunately my favorite event of the year, the Fuerteventura World Cup has been cancelled, so there will be a while over the summer with not many events. So I will definitely be looking at new plans for this time, and I am sure something fun will come up.
But for now, my nearest plan is to sleep!
Aloha for now
Kiani